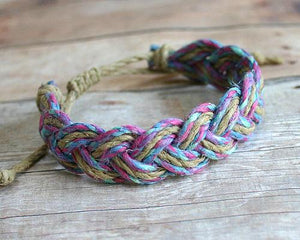 Surfer Sailor Style Hemp Bracelet

Material: natural handwoven hemp cord
Width: 3/4 inch (20mm).
Color: natural and purple
Length: 6 inch or custom
Closure: ties closure, make the bracelet more adjustable. 
Size 6" means - base of the bracelet is 6 inches plus strings, fits any wrist from 6" till 9".

If you want your bracelet in different color - please feel free to ask!

Made in USA.