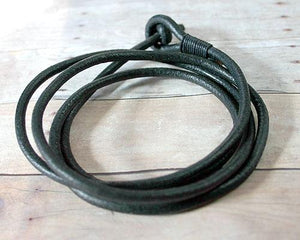 Handcrafted Surfer Bracelet or Anklet.

Material: 4mm natural distressed leather
Width: about 1/2 inch (10-12cm)
Color: black, dark and light brown, gunmetal or natural
Length: fit 6-7.5 inch
Closure: knot and loop clasp.

3-4 times wrap bracelet, if the length is too long, just un-tie the end knot, cut the extra leather and tie a know again.

If you want your bracelet in different color - please feel free to ask!

Made in USA.